You can watch a video report from an area television station here: http://www.kalb.com/index.php/news/article/mlk-march-in-jena/2804/
They've been promoting this for months and all they could come up with is 30 to 50 people. That's it? There were more counter protesters there.
White separatists march in town of Jena 6
By Mary Foster | Associated Press
5:23 PM CST, January 21, 2008
JENA, La. (AP) — About 50 white separatists protested the Martin Luther King Jr. holiday Monday in this tiny town, which was thrust into the spotlight months ago by 20,000 demonstrators who claimed prosecutors discriminated against blacks.

Police separated participants in the "pro-majority" rally organized by the Learned, Miss.-based Nationalist Movement from a racially mixed group of about 100 counter-demonstrators outside the LaSalle Parish Courthouse. There was no violence and one arrest, a counter-demonstrator.

Chants of "No KKK" from the mostly college-age counter-demonstrators were met with a chant from the separatists that contained a racial epithet.

At one point, dozens of state police forced back about 10 people, dressed in New Black Panther uniforms, who had gathered around a podium where the separatist group's leader Richard Barrett was to speak.
http://www.chicagotribune.com/news/nationworld/chi-jena-ap-webjan22,1,5770931.story?track=rss
This was us on September 20th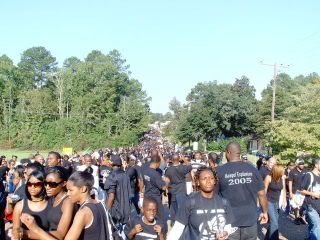 Versus
Them today
AHHH, ha ha ha ha ha!
ROFLMAO!!!!